Hi friends we are providing creative Bengali marriage card matter design with envelop matter cdr file free of cost.
This is a basic Bengali marriage card. This type of card easily available from local market at 4/-
This matter is in cdr file format. If you have coral draw x3 then you can easily edit all. We have avro keyboard and ansi bengali font in this bengali bibaha card matter.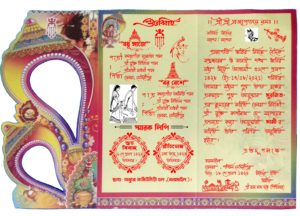 This matter looks very attractive after screen print. The download file is in zip format and password protected. Use password- picden
Used Font :- Kalpana Ansi, Shokuntola Ansi, Bornomala ansi, Stm-BNT-Lob
Font Password- picden2